When the North Carolina State Symphony instituted a vaccine mandate in the summer of 2021, musicians Chris Caudill, Rachel Niketopoulos, and Dovid Friedlander knew they couldn't comply.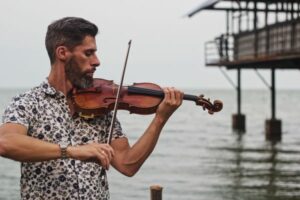 Dovid is Jewish—Rachel and Chris are both Buddhists. Their sincerely held religious beliefs prohibited them from taking the vaccine. The Symphony's vaccine mandate required all musicians be vaccinated for COVID-19 while on paper providing a specific exemption process for musicians with sincerely held religious objections to the COVID-19 vaccine.
There was just one problem; the Symphony's leadership had zero intention of actually granting any religious exemptions. The Symphony's CEO Sandi MacDonald brazenly declared the Symphony was committed to a "culture" of vaccination.
Chris, Rachel, and Dovid diligently submitted their requests for exemptions from the mandate and made it clear that they were more than willing to comply with additional safety measures to mitigate the spread of COVID-19, including regular testing before practices and performances.
But all their reasonable accommodation requests were denied.
Interestingly, while the Symphony mandated its musicians take the COVID-19 vaccination, it did not enforce such a mandate on its patrons who were allowed to sit shoulder-to-shoulder mere feet from musicians during performances.
The Symphony's mandate resulted in all three musicians being placed on unpaid leave and eventually being terminated—simply for living their lives according to their religious beliefs.
Their termination led to devastating financial, professional, and emotional consequences.
As Chris, Rachel, and Dovid dealt with the fallout of getting fired, in an incredible turn of events, the Symphony lifted its vaccine mandate for musicians in August 2023. But this wasn't due to a change of heart about the importance of ensuring its musicians could play music and practice their religion—it was motived by politics and by money.
In an email announcing the decision to end the vaccine mandate, the Symphony's CEO Sandi MacDonald revealed that it was lifting the mandate in order to secure funding from the North Carolina Legislature. She wrote, "If we are going to remove our mandate in the fall, it behooves us to do it now…to limit jeopardizing our relationships" with the legislature.
In other words, the Symphony only decided to lift the mandate to get more money from taxpayers.
Yet, Chris, Rachel, and Dovid still have not been welcomed back to the Symphony, despite the reversal of the vaccine mandate.
Now they're taking action.
Chris, Rachel, and Dovid filed a lawsuit in federal court, among other things, seeking the reinstatement of their employment. All they want is to return to the Symphony that has been their musical home for the better part of two decades. They seek to restore their ability play music while living out their lives in accordance with their religious beliefs.
The Symphony is a state actor because of its close ties with a North Carolina agency, the Departent of Natural and Cultural Resources, which manages its operations. Because it is a state actor, it is subject to the Constitution. And under the Constitution, fundamental freedoms are not negotiable. Government actors cannot by fiat declare a "culture" that discriminates on the basis of religious beliefs.
In America, our culture is freedom.