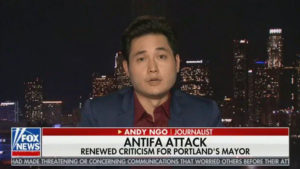 On Tuesday, after a seven-day trial, the jury in Andy Ngo v. Rose City Antifa, et al. found two defendants not liable for assault, battery, and intentional infliction of emotional distress for their alleged attack on independent journalist Andy Ngo.
The verdict sends a dangerous message to violent extremist groups: no one will stop you from your violent and wrongful activities.
While this verdict is disappointing, Ngo won a settlement with one of the other defendants in the case and obtained default of three defendants who failed to show up for court. This is not the end of Ngo's battle for justice after years of suffering at the hands of Antifa members, and it's certainly not the end of Ngo's brave reporting on the activities of this violent, extremist movement.
This trial was riddled with intimidation by individuals believed to be associated with Antifa. Court proceedings were delayed and halted on multiple days due to threats of violence, and the jurors' identities had to be sealed over serious concerns about external efforts to identify them. In fact, the defense's attorney even declared she would "remember each one of their faces" shortly after declaring she was Antifa—in our opinion, an unambiguous threat to the jurors.
Now, more than ever, the truth about Antifa and other radical left-wing violent groups must not be silenced.
The Center for American Liberty will work with Ngo on next steps in this case, but it should be clear: we will not stand idly by as violent criminals seek to silence journalists like Ngo.
Listen to Ngo give his update here:
In 2019, Andy Ngo began reporting on the violence and misdeeds of the alleged domestic terrorist group Antifa in Portland. His persistent reporting increased national awareness of the threat Antifa and its followers pose to public safety, perhaps more than any other American journalist.
Sadly, this critical reporting painted a target on Ngo's back. In retaliation for Ngo's unfavorable coverage, and in an effort to intimidate Ngo from further revealing Antifa's illegal acts, members of Antifa began a targeted campaign of harassment and violence against Ngo:
Antifa members assaulted and threatened Ngo to the point of causing lasting and significant physical injuries.
Antifa members publicized private and personal information about the whereabouts of Ngo and his family.
Antifa members attempted to break into his family's home.
Antifa members stalked him in his daily life, harassing him and stealing his personal belongings.
And while Ngo was one of the more prominent victims of these attacks, he certainly wasn't the only one. However, Ngo's repeated attempts to bring these assaults to the attention of Portland law enforcement and government officials were ignored.
So Ngo took the assailants to court to hold Antifa and its members accountable for their wrongful activities.
This week's verdict is just a single stop in a long journey of justice for Ngo.
Support Andy Ngo's continued fight for truth and justice!